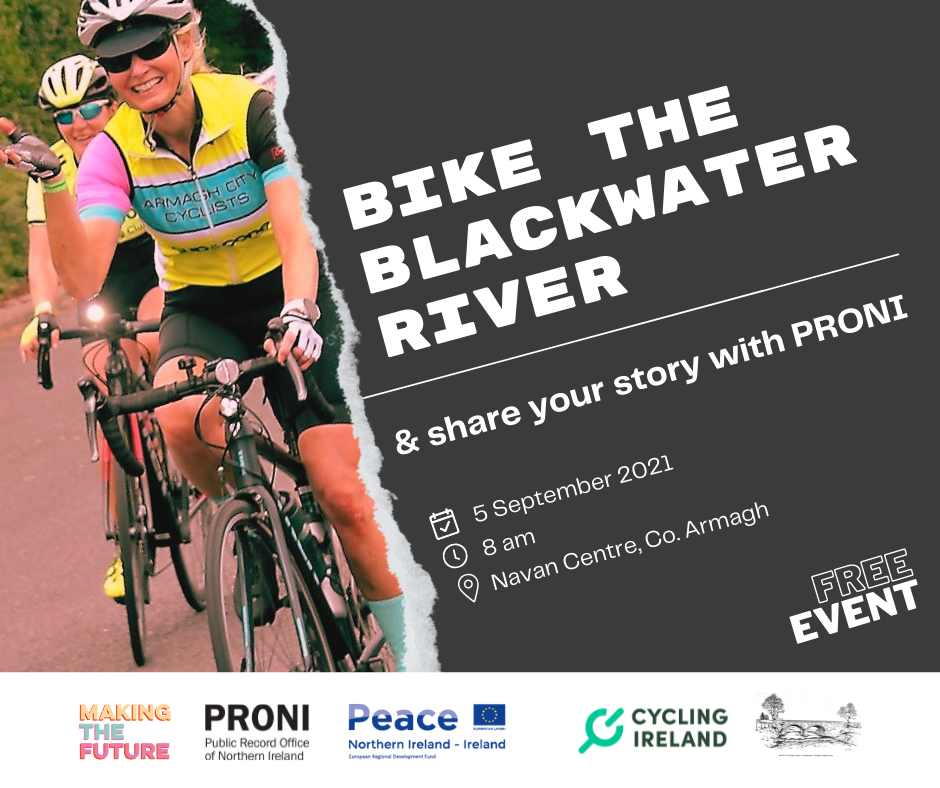 The Bike the Blackwater leisure cycle takes place this Sunday 5th September. The event has been restarted this year after an absence of many years thanks to efforts of four local clubs, Cycling Ulster Chair Tommy McCague and Paul Sanders.
Making The Future, Truagh Development Association and Cycling Ireland are coming together for this exciting and free Cycling & Storytelling Project. This unique event it is free to enter thanks to support from the Public Records Office NI, Special European Programmes Body (Peace IV) and Cycling Ireland.
The cross-border and cross-community event involves four local clubs, Armagh City Cyclists, Portadown Cycling Club, Emyvale and Killylough Cycling Club who have come together to cycle the Blackwater River route and share the history and heritage of the area and some cycling stories.
The Blackwater River Valley area is a beautiful and undiscovered part of Ireland. The catchment of the river Blackwater meanders through glorious countryside and under countless bridges linking the border counties of Monaghan, Armagh, Fermanagh and Tyrone, ultimately flowing into Lough Neagh.
Starting at the Navan Centre, Armagh, the two cycling routes have been designed to showcase the beauty and history of the Blackwater River Valley: past stone cottages, medieval churches and graveyards, historic buildings and rolling green hills.  
There is a 60km and 120km route to choose from with experienced and intermediate groups taking part in the 120km route. Cycling Ireland Ride Leaders will be leading the groups. The 120km experienced group will start at 8.30am followed by the intermediate group at 8.35 and the 60km event getting underway at 8.45am.
There will be light refreshments afterwards at the Navan Centre and participants are asked to maintain Covid-19 safety guidelines.
There are just 50 spaces remaining, you can enter online by clicking here.